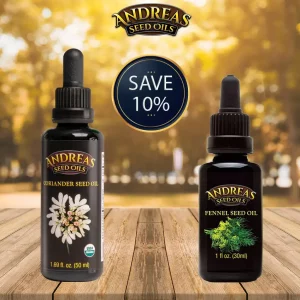 The Andreas Vitamin C Bundle includes Coriander Seed Oil & Fennel Seed Oil.
A great source of Vitamin C is Fennel seeds and Coriander seed. In fact, Fennel seeds are a concentrated source of the minerals copper, potassium, calcium, zinc, manganese, iron, selenium, and magnesium. They're also high in vitamin C, vitamin A, as well as B complex vitamins B1, B6, B2, and niacin B3.
Unlike other dry spice seeds that lack in vitamin-C, coriander seeds contain an ample amount of this antioxidant vitamin. 100 g of dry seeds provide 21 mg or 35% of RDI of vitamin-C. Coriander seeds are rich in vitamins and minerals, including iron, copper, calcium, potassium, manganese, zinc and magnesium. Known as a natural antioxidant with anti-bacterial and anti-fungal properties.
Andreas' Vitamin C Bundle includes 50ml Coriander Seed Oil and 30ml Fennel Seed Oil.
It is important to use these two Andreas Seed Oils together, as each has a separate function: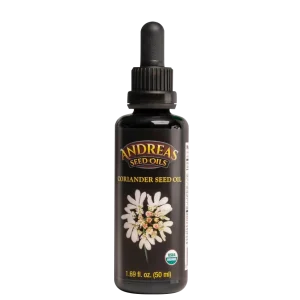 Coriander Seed Oil kills Candida, the main contributor to Crohn's Disease, as well as many other viruses and invading bacteria.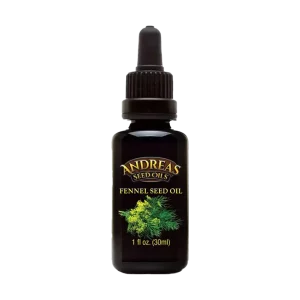 Fennel Seed Oil is an antiseptic, can help reduce gut spasms, helps prevent gas and bloating, and has purifying and detoxifying effects.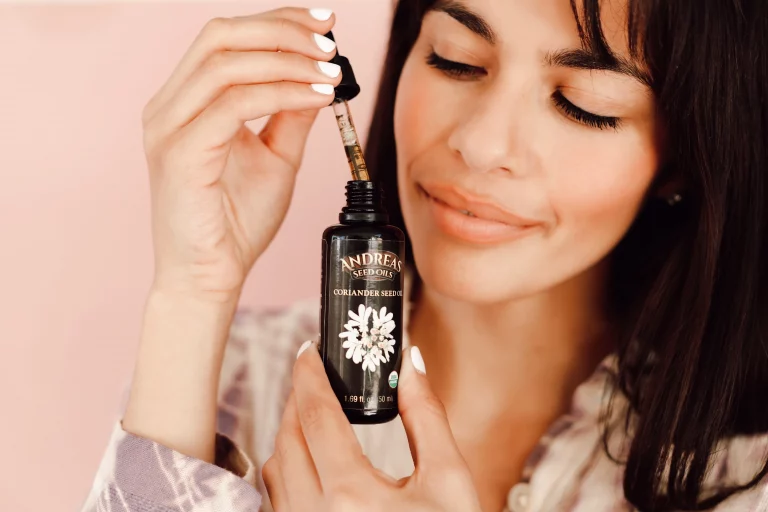 Coriander Seed Oil (50ml)
Coriander Seed Oil (50ml) has a warm, sweet and spicy aroma. Although this aromatic spice is most well-known for its use in Mediterranean cuisine, the use of coriander oil, produced from the seeds of the coriander plant, has provided numerous health benefits over the centuries.
This oil's warming effect may be helpful for alleviating muscle aches and pain related to rheumatism, arthritis, and muscle spasms and strains. It may also be used to aid in digestion, ease cramps and convulsions, and treat fungal infections.
KEY HEALTH BENEFITS OF CORIANDER

Supports organ health to help flush out toxins
Fights fungal and candida infection
Improves Gut Health-contributes to a balanced microbiome
Contains powerful free radical fighting antioxidants
Lowers blood sugar
Helps decrease blood pressure
Helps to remove heavy metals
Helps ease digestive issues such as indigestion, and flatulence
Antispasmodic -helps reduce muscle spasm and cramps
Natural bacteria-balancing properties
Natural aphrodisiac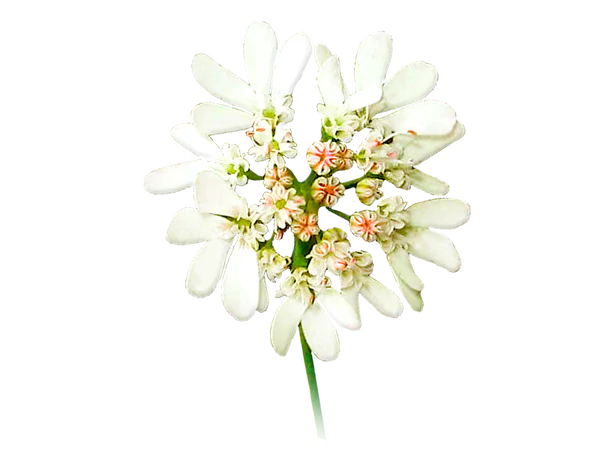 *These statements have not been evaluated by the FDA. This product is not intended to diagnose, treat, cure or prevent any disease.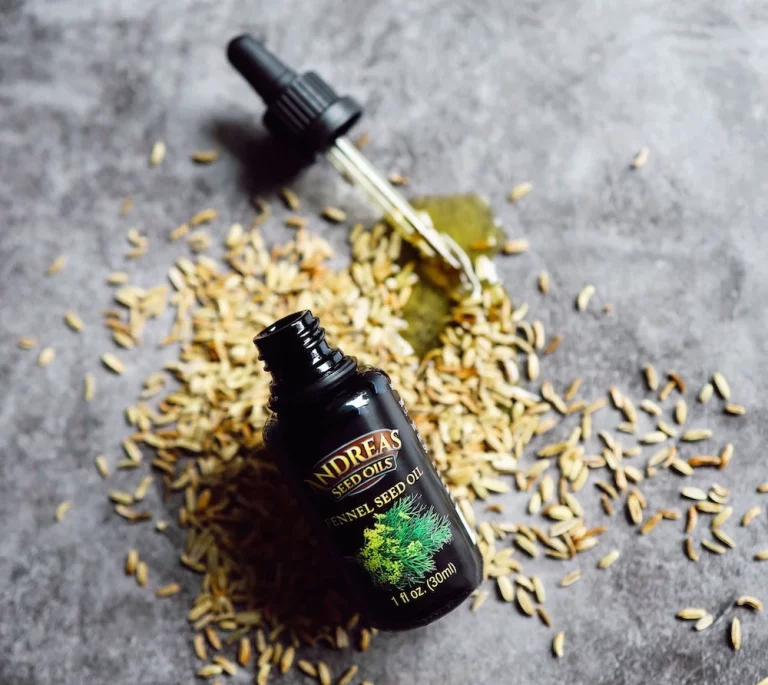 Heirloom Fennel Seed Oil (30ml)
The only Cold Pressed Heirloom Fennel Seed Oil in the world.
Fennel Seed is known to be a potent and powerful aid for digestive health. Like its root plant, it has a licorice-like flavor and aroma. Fennel is an antiseptic, can help reduce gut spasms, helps prevent gas and bloating, speed digestion, has purifying and detoxifying effects, is an expectorant, a powerful antioxidant, natural laxative, and even a mouth freshener!
Fennel has been known to have been used by mouth for various digestive problems including heartburn, intestinal gas, bloating, loss of appetite, and colic in infants among others. It is also used on the skin for excessive body hair growth in women, vaginal symptoms after menopause, and to prevent sunburn.
KEY HEALTH BENEFITS OF FENNEL OIL

Relieves indigestion and digestive troubles, speeds digestion
Helps with IBS symptoms
Eases monthly menstrual cycles
Supports a Healthy Lymphatic System
May improve Eye Health and Eyesight
Reduces Asthma Symptoms
Natural mild expectorant- helps loosen congestion in the lungs and sooth a persistent cough
Helps suppress sweet cravings
Anemia: pairing high-vitamin-C foods, such as fennel, with iron-rich foods can improve the ability of the body to absorb iron.
Reduces water retention - helps flush out excess fluids as it works as a diuretic. Antibacterial, Antimicrobial, Anti-fungal properties
May increase breast milk secretion in nursing mothers
*These statements have not been evaluated by the FDA. This product is not intended to diagnose, treat, cure or prevent any disease.
Save 10% by buying Andreas' Vitamin C Bundle:

Suggested Use:
Shake well before each use
No refrigeration required
Not suitable for cooking or frying.
Fennel: 5-10 drops, 2-3 times/day.
Coriander: 1-3 droppers/day

Ingredients:
Certified USDA Organic, Non-GMO Seeds
Fennel Seed Oil: Organic Fennel Seeds
Coriander Seed Oil: Organic Coriander Seeds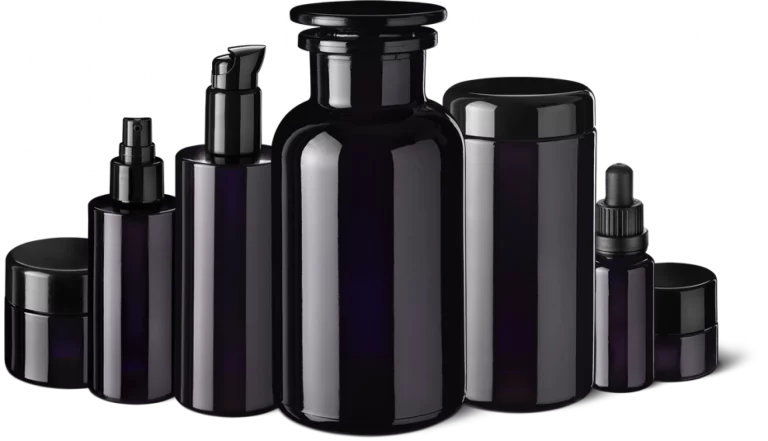 Why are our Seed Oils only sold in MIRON Glass?
Biophotonic glass, also known as Miron or Violet glass, is a type of deeply coloured, almost opaque glass which is thought to be energised by light.
What's the difference between Miron Violet Glass and other glasses?
Compared with the amber, blue, green, and clear glass, the Miron Violet glass provides superior protection to its contents. This high-quality packaging offers optimal protection from light degradation, hence preserving the freshness of the delicate contents which make up the Radiance Series.
Miron Violet Glass is 100% recyclable!