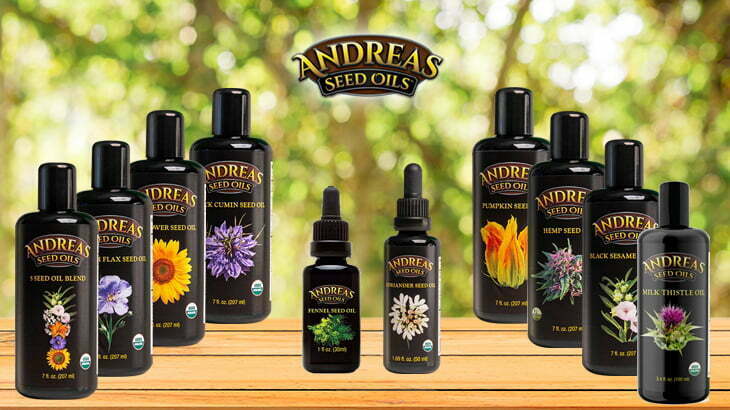 We are the original, founding creators and makers of Andreas Seed Oils, Cold Pressed from Certified Organic, Non-GMO seeds.
Andreas Seed Oils was created to bring health and wellness to people through food. The right foods made up of essential fats, vitamins, and minerals are necessary to be truly healthy. The natural balance of these nutrients is offered in our purely pressed oils.
Don't Know Which Oils to Choose?
No worries, we compiled these simple guidelines to help you choose the right ones for you…
Find the right oils
Andreas' Signature Oil Collection
Coriander, Flax & 5 Seed Blend - The use of these three oils has been continuous for Andreas even long after his symptoms have subsided - this amazing oil combo is now available for one low price!

How I Fought a Dreaded Disease and Won! - Andreas' Story
The inspirational story of Olympic Champion Andreas Wecker and his winning battle against a debilitating disease…
Andreas Seed Oils USDA Certified

After a long and hard journey Andreas Seed Oils are now USDA Certified Organic, follow the link below to view the certificate.

Did you know Andreas Seed Oils are suitable for your beloved pets!
SAVE 10% with our 'Pet Bundle' and give your pets a health boost.
SAVE 10%
RESTORE YOUR HEALTH NATURALLY WITH THE POWER OF SEED OILS
With the miraculous healing power of seeds you can maximize your well-being, energy, focus, and vitality! Andreas Seed Oils are designed to elevate your health on a multitude of levels. Every organ in your body from brain, heart, liver, kidneys, and pancreas to respiratory, digestive, joints, and skin are dynamically enhanced when you incorporate Andreas Seed Oils into your daily regiment.
Founder and Olympic Champion Andreas Wecker, has been pressing the world's purest oils for over 11 years. Through his proprietary German Cold-Press technology, these oils are pressed at ultra-low temperatures to eliminate oxidation and maintain its molecular integrity. This technology is so delicate yet powerful that the nutritional molecules of each seed remain undamaged and intact, resulting in the purest and most effective oils instantly absorbed by the body. Andreas Seed Oils are completely free of any metals, solvents, pesticides, or preservatives.
Our superfood oils detoxify the body, are rich in antioxidants, and have tremendous anti-inflammatory properties. By enjoying these oils your body receives a rush of nutrients that can heal and revitalize your body at the cellular level.
• COLD-PRESSED • GLUTEN-FREE • KOSHER • NO SOLVENTS • NO PRESERVATIVE • NON-GMO • NO ADDITIVES