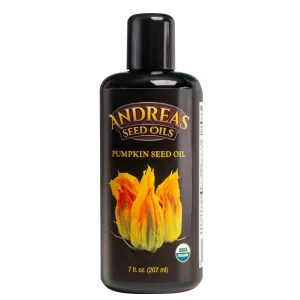 Cold Pressed Pumpkin Seed Oil
Pumpkin seed oil is one of the most nutritional oils available, containing essential fatty acids, antioxidants, vitamins, and phytosterols. Rich in minerals iron, magnesium, zinc, phosphorus, copper, and manganese.
Pumpkin seeds contain high amounts of omega-6 and zinc which supports reproductive health, immunity, and protein absorption.
A study published in the American Journal of Clinical Nutrition shows that the use of pumpkin seed oil can reduce the risk of bladder-stone disease, and inhibit the formation of kidney stones. Studies have also shown that pumpkin seed oil helps maintain prostate health due to the high levels of zinc, essential fatty acids, and phytosterols.
"I pressed pumpkin seed oil for the first time in 2009, upon request from a costumer with chronic prostate discomfort.
I pressed 5 bottles of oil for him, and he was so happy that after just 5 days of taking this oil, he was completely relieved of all of his discomfort. After he shared his experience with me, I began taking the pumpkin seed oil myself, and I found that some of the lingering symptoms of my Crohn's Disease diminished or disappeared. Although the flaxseed oil I had been taking for almost 3 years had relieved the pain and inflammation throughout my body, I was still waking up at least five times every night to go to the bathroom due to my Crohn's Disease. With the pumpkin seed oil, this nightly disruption was reduced to 1 time per night. This change was huge for me, as I had not been able to sleep through the night for 4 years because of the Crohn's Disease."
- Andreas Wecker, Founder of Andreas Seed Oils
KEY HEALTH BENEFITS OF PUMPKIN SEED

Prostate Health
Heart Health
Kidney and Bladder Health - aids in lowering risk of stones
Soothes Overactive Bladder
Fights Hair Loss in Men
Boosts the Immune System and Metabolism
Regulates Cholesterol -reduces LDL
Fights Intestinal Parasites
Anti-Diabetic effects -proven to be a anti-hyperglycemic
High magnesium content
Helps relieve symptoms of
Menopause
High in Zinc
Powerful Antioxidant Protection
Reduces Inflammation
Encourages Mental Well-Being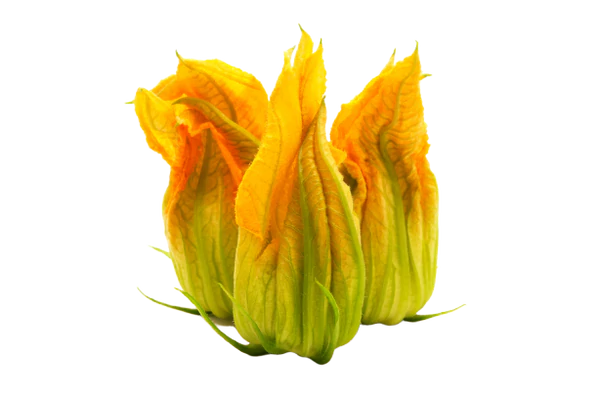 *These statements have not been evaluated by the FDA. This product is not intended to diagnose, treat, cure or prevent any disease.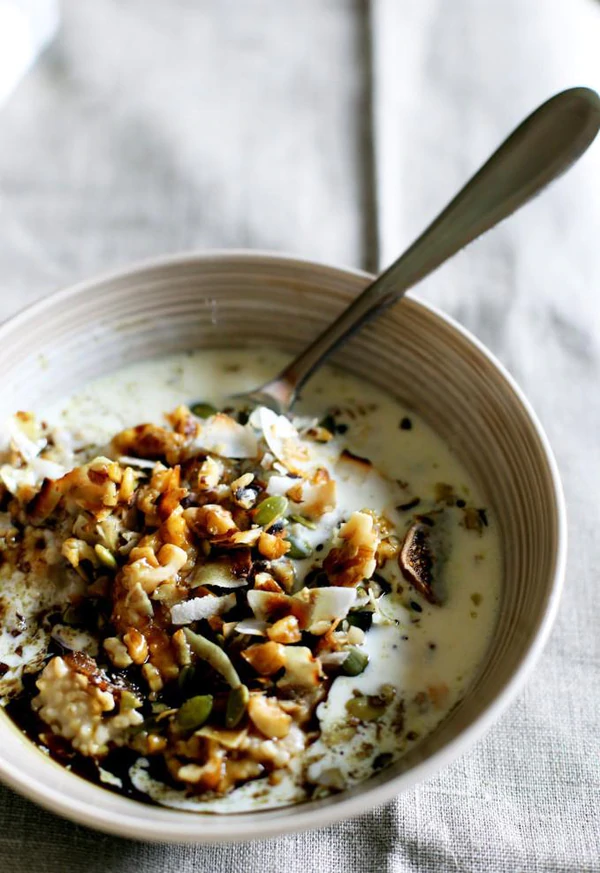 Superfood Breakfast: Oatmeal with Pumpkin Seed Oil
Steel-cut oatmeal recipe with pumpkin seed oil, birch syrup, and a crunchy topping of walnuts, seeds, and coconut!
INGREDIENTS:
4 cups water
1 cup steel-cut oats
TOPPINGS:
1 cup walnuts, chopped
½ cup unsweetened coconut chips or flakes
⅓ cup steel-cut oats
TO SERVE:
Birch syrup or maple syrup/honey
Andreas' Cold Pressed Pumpkin seed oil
Nut milk of your choice
Top with Booster Topping and a drizzle of birch syrup and pumpkin seed oil. Serve with nut milk.
Buy Andreas' Cold Pressed Sunflower Seed Oil:

Suggested Use:
Shake well before each use
Therapeutic use: take 1-3 teaspoons daily
Do not use for cooking or frying
No refrigeration required
Store at room temperature, out of direct sunlight
Ingredients:
100% Organic Pumpkin Seed Oil,

Absolutely Nothing Else!

Pumpkin Seed Oil made via our Unique Cold Press Technology using Certified Organic, Non-GMO Pumpkin Seeds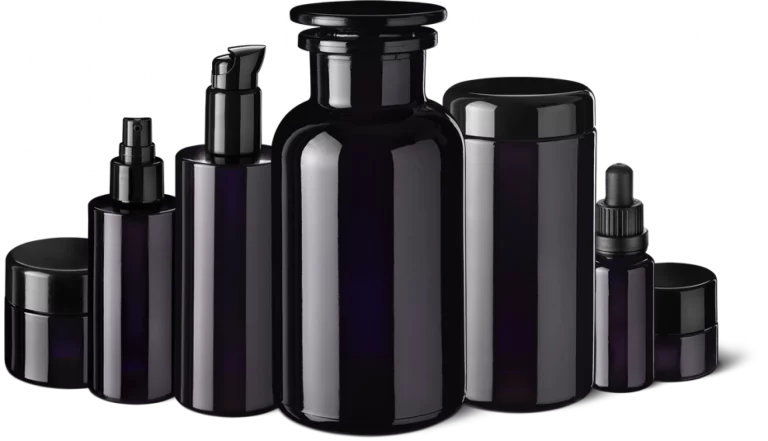 Why are our Seed Oils only sold in MIRON Glass?
Biophotonic glass, also known as Miron or Violet glass, is a type of deeply coloured, almost opaque glass which is thought to be energised by light.
What's the difference between Miron Violet Glass and other glasses?
Compared with the amber, blue, green, and clear glass, the Miron Violet glass provides superior protection to its contents. This high-quality packaging offers optimal protection from light degradation, hence preserving the freshness of the delicate contents which make up the Radiance Series.
Miron Violet Glass is 100% recyclable!